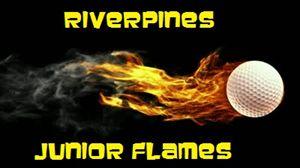 The mission of the Junior Flames program:
Provide junior golfers an opportunity to develop their skills and ability individually through developmental clinics, games and friendly competition with other junior golfers. Our goal is to create lifelong golfers through the friendships and experiences they have along the way.
The flames represent the comprehensive Junior Program at RiverPines Golf. It is a great opportunity for juniors to play golf together, get discounts on the Par 3 course, Championship course and clinics to help improve their game. All Junior Flames members receive a membership card to get their discounts for golf. Any junior golfer aged 6-17 is eligible to be a part of the program. Over 130 kids joined the Junior Flames program in 2017. Make 2018 a great year of golfing with friends!
What Are The Perks Of Being A Junior Flames Member?
-Discounts on Championship and Par 3 course play-

-"Flames Clinics" throughout the year. E-mail access to clinic time and information.-

-Early access to join the PGA Junior League Team-

-Invitation to play in the Junior Club Championship in early August-

-Junior Only Par 3 Tournaments-

-Designated play time slots on the Championship Course for Flames members during the summer
COST TO BECOME A JUNIOR FLAMES MEMBER:
$60.00 dollars

CLICK HERE to register your junior into the program

LET THE FLAMES SPARK THEIR INTEREST IN GOLF FOR A LIFETIME!